The 2020 peak shipping season has begun, adding a new layer of challenges to stressed supply chains. This holiday season, retailers are grappling with an e-commerce surge along with a small parcel capacity crunch that threatens the fate of their final-mile delivery strategy. In a recent survey commissioned by GlobalTranz, 59% of supply chain leaders said they were concerned about their ability to meet the demands of their customers this peak season.
Why are companies struggling to adapt to the e-commerce surge? Karen Tyndall, GlobalTranz's Director of Customer Solutions, explained to FreightWaves, "The Coronavirus pandemic forced many companies to adapt the way they manufactured and packaged their products, as well as how they've shipped them to their final destination."
Salesforce predicts 30% of U.S. retail sales during the 2020 holiday shopping season will be made through digital channels. That increase in e-commerce activity will strain an already overwhelmed small parcel delivery network.
In a recent blog post, we reported that small parcel carriers are rejecting larger parcels from their networks to deal with a capacity crunch, leaving shippers scrambling to find alternative solutions. UPS and FEDEX and regional carriers like Spee-Dee and Lone Star are pushing anything in excess of 51 LBS and/or oversize parcels out of their system.
As retailers prepare for the 2020 peak shopping season, it is critical to understand how small parcel shipping capacity constraints will impact their supply chains and available solutions they can leverage to ensure their products are delivered on-time.
Small Parcel Challenges [Infographic]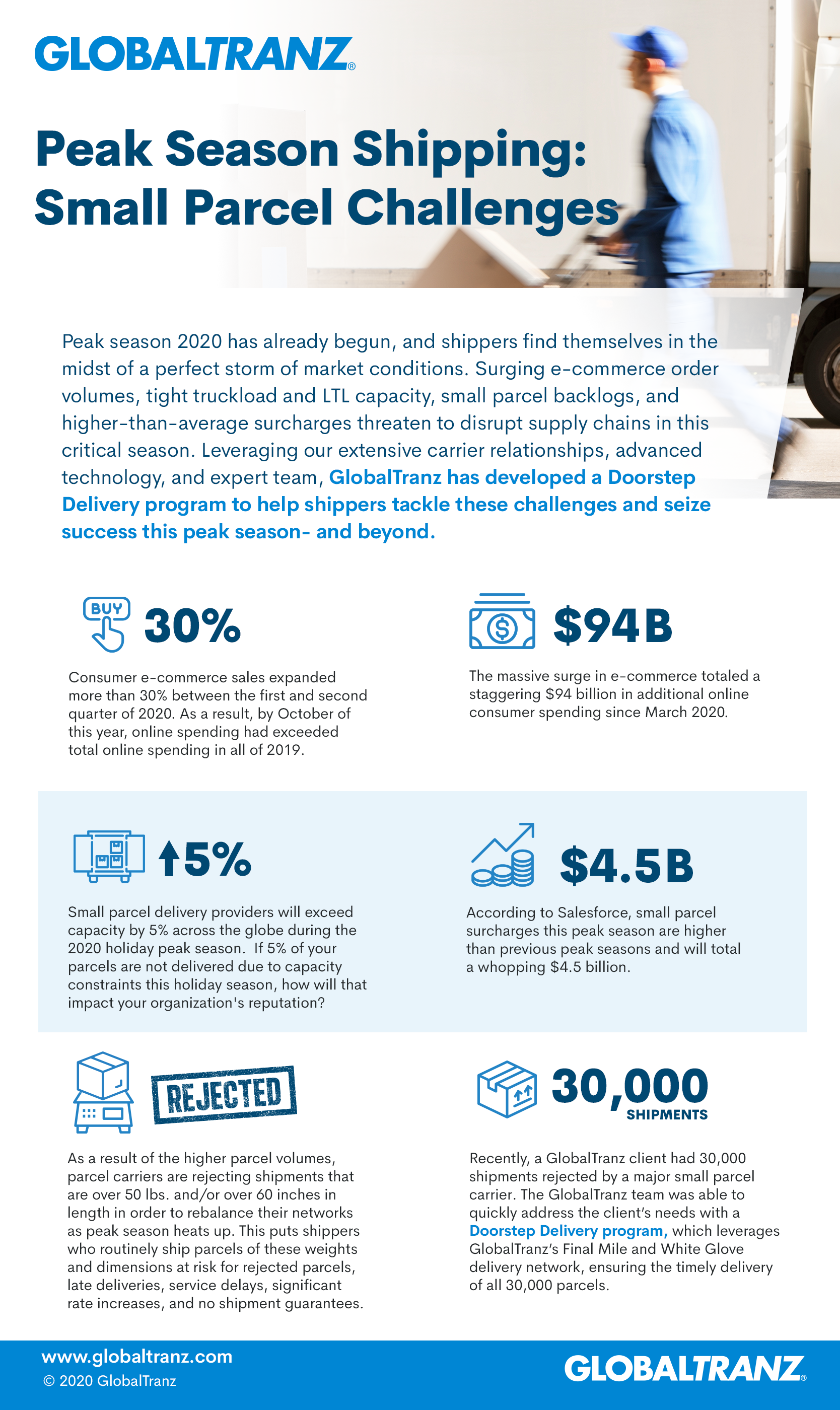 Protect Your Peak Shopping Season Shipments from Small Parcel Shipping Challenges with GlobalTranz
In our survey, 74% of supply-chain decision-makers said they are more likely to outsource logistics and transportation services. In comparison, only 34% said they had established partnerships to handle their supply chains' increased demands. For retail shippers to succeed this peak season, partnering with a 3PL who offers creative supply chain solutions, multimodal capabilities, and technology that provides end-to-end visibility and real-time analytics is key to adapting to the 2020 peak shipping season demand.
GlobalTranz Offers A Variety of Peak Shipping Season Solutions For Shippers:
Doorstep Delivery Program:
A long-time GlobalTranz customer recently had 30,000 shipments rejected by a major parcel carrier. The GlobalTranz Solutions team quickly provided an alternate solution for the client. Leveraging our final mile and white glove delivery network, GlobalTranz implemented a Doorstep Delivery program to ensure that all 30,000 parcels arrive on-time and in-budget. If your parcels exceed 50 lbs. and/or are over 60 inches in length you may be at risk for rejected parcels, late deliveries, service delays, significant rate increases and no shipment guarantees.
Pop-Up Fleets:
GlobalTranz's pop-up fleet solution is designed to help high-volume shippers and shippers with private fleets in need of additional capacity to control rates and meet their end-customer delivery demands. In a recent Logistics Management article, Ross Spanier, GlobalTranz's Senior Vice President of Sales and Solutions, explained, "In a temperamental market, dedicated fleets ensure loads are covered quickly, providing a solution that controls costs and eliminates the need for managing multiple brokers to cover loads."
Shipping Container Storage:
Designed for retailers that need to build on-hand inventories for the holiday season but lack the storage space to do so on-premise, GlobalTranz's shipping container storage solution can help you manage retail peak season inventory. Through our temporary storage solution, retailers can ensure they have on-hand peak season inventory, resulting in more speedy replenishment and lower transportation costs.
Final Mile Delivery:
With e-commerce sales surging this holiday season, final mile delivery execution is critical. Our team of experts leverages key relationships with line-haul carriers, final mile providers, and our award-winning technology that delivers a last-mile delivery solution that eliminates the time-consuming complexities of final mile shipping. These solutions can reduce accessorial charges and claims by using the right equipment in the right place at the right time.
Surging e-commerce order volumes, small parcel shipping capacity constraints, and higher-than-average surcharges threaten to disrupt supply chains- don't let these challenges stop your organization from success this peak shopping season. Partner with GlobalTranz to help you tackle small parcel shipping challenges for the 2020 peak shopping season- and beyond.