Every step in your supply chain can have a tremendous impact on the profitability of your company. Warehouse services are no exception. These spaces offer a variety of solutions that help shippers store, move, manage and fulfill products. But each of these components also has the potential to affect your bottom line.
As a result, selecting the wrong warehousing solution can lead to disruption and loss of revenue for any shipper — no matter how well-intentioned they were in their choice.
How To Choose Warehouse Types that Support Your Business
GlobalTranz, an industry-leading third-party logistics (3PL) provider, helps companies of all sizes with top shipping and warehousing services. That includes supporting them with more than 50 million square feet of warehouse space across North America.
In our e-guide, 7 Considerations When Choosing Warehouse Logistics Solutions, we provide in-depth information that will allow you to make informed decisions when selecting warehouse types for your company. In particular, we analyze: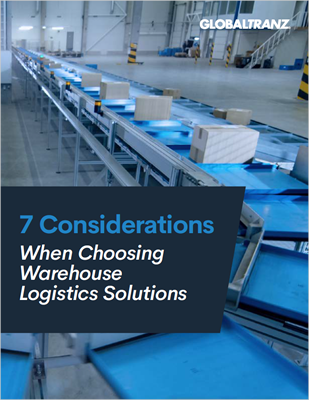 Different types of warehouses — Learn about private, public and other warehouse types, and what they provide shippers.
How to choose a warehouse — Understand the factors you must consider when looking for warehouse logistics solutions that are right for your business.
Comparison of warehouse services — Get a side-by-side look at the benefits and drawbacks of each warehousing solution.
Warehousing services expertise — Discover why GlobalTranz is a leading 3PL,offering top third-party warehouse services.
Connect With a 3PL Warehouse Management Expert
Thousands of shippers across the country rely on GlobalTranz and our innovate warehouse logistics solutions — including technology, infrastructure, staffing and more. Our services and expertise help shippers optimize their supply chain, save money, create efficiencies, meet deadlines and beat the competition.
Reach out to GlobalTranz today for a free consultation to learn about our third-party warehouse services expertise.