The parcel industry is one of the fastest changing areas of logistics. GlobalTranz will help you stay ahead and capture savings.
Small parcel shipping is a critical component of the transportation mix for a growing number of organizations. While many companies take aggressive measures to manage their truckload and LTL shipping costs, small parcel costs often escape closer scrutiny, especially for small- to mid-sized businesses.
If your organization has not recently conducted a thorough audit of your small parcel spend or had a trained expert negotiate rates with your small parcel carriers, chances are you are leaving money on the table.
Our award-winning logistics platform, GlobalTranz TMS, sets us apart from the competition by providing our clients an enterprise-level, ecommerce integration-ready, next-generation logistics platform that provides you the visibility, efficiency, and analytics to propel your business forward.
End-to-End Transportation Management

From robust track and trace capabilities to real-time freight analytics, the GlobalTranz TMS provides a 'control tower' view of your shipments across all modes of transportation.
Access Virtually Unlimited Capacity

With the GlobalTranz TMS, you gain immediate access to GlobalTranz's network of 85,000+ highly qualified truckload carriers and 75+ local, regional, and national LTL carriers.
A Logistics Partner
For The Long Haul

When you partner with GlobalTranz, you are backed by one of the largest transportation management and logistics technology leaders in North America.
Read how Lynn Electronics drove 15%+ savings with Parcel Spend Management Solutions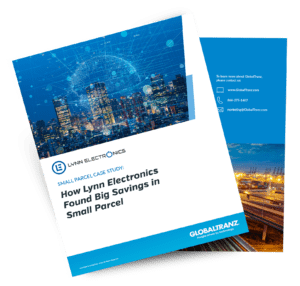 Contact GlobalTranz to get started on realizing big savings on your small parcel spend. Give us a call at 866-275-1407 or complete the form to have an expert reach out to you.