Key Features and Capabilities
Tap into GlobalTranz's shipper base of more than 115,000 customers to find loads, secure backhauls, and help grow your business.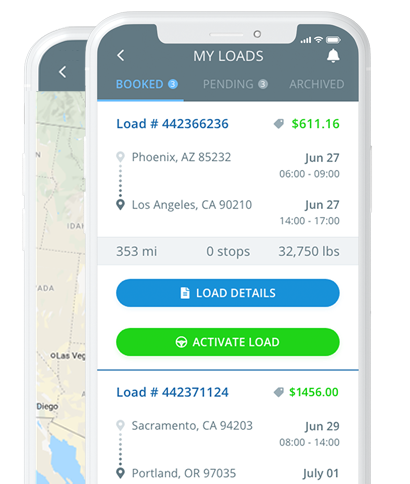 Personalized Settings

Customize your account by setting preferred lanes and favorite loads.
24/7 Expert Support

Access GlobalTranz's industry-leading customer service on every load.
Privacy Control

The GlobalTranz Mobile app stops tracking when your load is completed.
Find Loads Instantly

Reduce deadhead miles and find loads on the lanes you want to run.
"My Loads" Feature

View current bids, review historical and future shipments to optimize your fleet.
Manage and Reload

Manage all booked, pending and archived loads. Quickly access nearby reloads.
Manage Active Loads

Manage and control all active loads from start to finish all in one location.
Streamlined Offers

Streamlined offer process allows you to either accept the bid price or make an offer.
Easy Document Upload

Quickly upload documents for faster processing using your smartphone's camera.
Simple Status Updates

Easily and quickly update the exact status of a load with the press of a button.
Real-Time Tracking

Provide real-time tracking and reduce the need for check-in phone calls.
User Management

Access your account, make updates, or invite new drivers to your network.
Ready to haul lucrative loads, eliminate wasted miles and streamline your business operations? Now is the time to maximize your earning potential. Become a GlobalTranz Carrier and put our technology and freight network to work for you.