Providing quality products and service are priorities for many shippers, including one Arizona utility provider whose 1.3+ million residential and commercial customers depend on them for reliable power delivery. Arizona Public Service has partnered with GlobalTranz since 2008, and have together integrated logistics solutions to ship everything from office supplies to heavy machinery - all of which ultimately contributes to the delivery of reliable, affordable and increasingly clean energy.
How GlobalTranz Transformed Arizona Public Service's Shipping
With 340+ shipments per month, Arizona Public Service needed support across all their shipping operations. From helping find the right shipping modes to aiding when unplanned power outages hit, GlobalTranz continues to help Arizona Public Service:
Receive logistics support — from expedited shipping options to flexible solutions — during planned and unplanned power outages.
Select the right shipping mode and specialty services for each unique shipment.
Combat fluctuating shipping costs by utilizing pre-negotiated, competitive and predictable freight rates.
Define KPIs to monitor and manage shipping successes and to identify areas for improvement.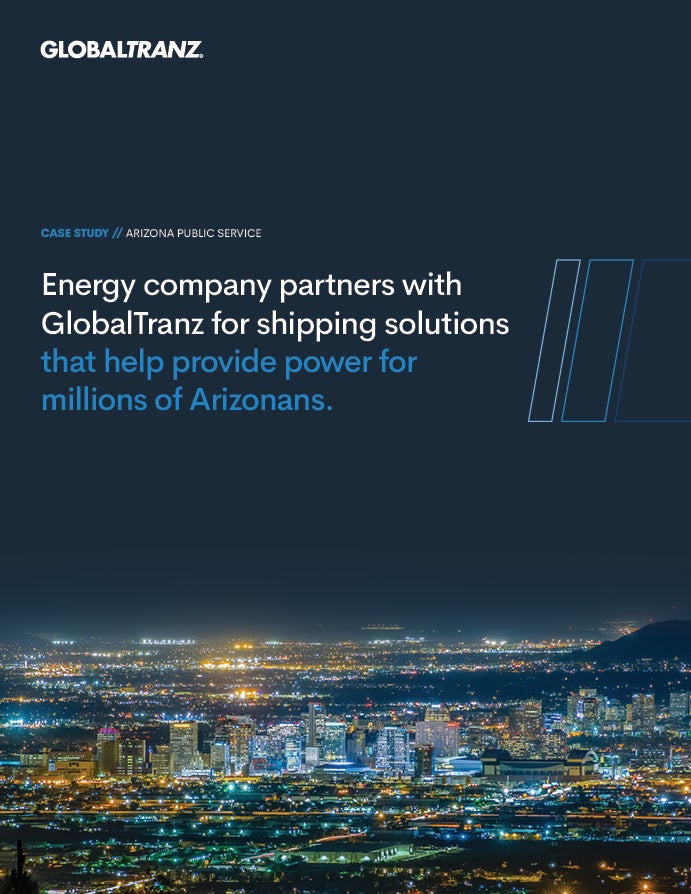 Learn how GlobalTranz helped transform Arizona Public Service's logistics strategy and provide a better experience for more than 1 million Arizonans.
Find Top Solutions for Your Unique Shipping Needs
Identifying strengths, making improvements and seeking the best options for your unique needs are all sure-fire ways to improve your customer experience. With an array of shipping solutions and specialty services, GlobalTranz has the tools and resources you need to make the most of your shipping operations. Ready to get started? Connect with an expert to see how GlobalTranz can help maximize your shipping and logistics.