In the United States, there are many shipping ports to choose from — each with their own strengths and weaknesses. That's why it's imperative for shippers to do their research and find the ports that best fit their international freight shipping needs.
GlobalTranz, a leading third-party logistics (3PL) provider, helps shippers of all sizes with their international shipping strategy. Our e-guide, 13 Considerations for Choosing a Port for Your International Ocean Freight Shipping, is designed to provide insights and tips on port selection.
Optimize Your Container Shipping With 3PL Freight Services
With more than 300 ports nationwide, it can be difficult to determine which one is the best option for you. In our international ocean freight guide, we address the questions you need to answer when selecting a shipping port, including:
What kind of products are you shipping?
Does the port fit your timing needs?
What is the origin and destination of the shipments?
Does the port have reliable technology?
What are the different types of ports and why does it matter?
Additionally, we cover why working with a 3PL like GlobalTranz can help you optimize your port selection and overall international shipping strategy.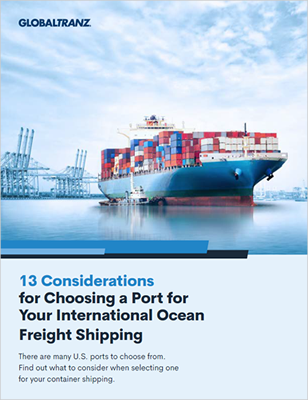 Maximize Your International Freight Shipping and Port Selection Processes Today
There are uncountable challenges related to international ocean freight. Customs, packaging, mode selection and documentation are just a few. But selecting the right port can be the most difficult and important decision you can make for your international freight shipping.
Download 13 Considerations for Choosing a Port for Your International Ocean Freight Shipping  today and learn how selecting the right port can save you money, reduce hassle, help you meet deadlines and keep customers happy.
GlobalTranz Is a Leader in International 3PL Freight Services
Our international ocean freight team is here to help you navigate all of the shipping challenges  related to the complex world of importing, exporting and container shipping.  From selecting the right mode, carrier and port to completing the customs process, our team will ensure your goods get to their destination country efficiently and safely.