If you are a freight broker, you must know how time consuming freight bidding is. But it's something you can't skip. After all, it helps you get better rates and more value for your money.
Naturally, technology can help with this part of your work. There is a variety of freight bidding software (sometimes simply referred to as "online truck load boards" or "freight load boards") that you can use to establish better ties with shippers and carriers, become more efficient, and save some money along the way. Here are 5 of the best platforms out there.
Freight Bidding Platforms #1: DAT Solutions

Dat.com
DAT Solutions is a company with a well-established reputation in the US freight community. Founded in 1978 in Portland, Oregon, the company started out by providing Dial-A-truck (DAT) load finding services.
Today, DAT Solutions boasts the largest freight load board – the 360 load board. In 2013 alone, the platform processed more than 100 million loads and trucks from brokers, shippers and carriers. The 360 load board is great for any freight broker who needs fast service. The company claims its loads are seen by three times as many carriers than with other load boards. Here are some other encouraging stats: over 22 million truck were posted in 2013, and over 99 million loads were searched by carriers that same year.
This software is the only platform that provides real-time freight rates. Another one of its unique selling points is that loads can be accessed from a variety of mobile devices and from truck stops, as well.
Freight Bidding Platforms #2: 123 Load Board
123LoadBoard.com
123 Load Board has more than a decade of experience with freight and truck load boards.
123 Load Board is known for its reliability and user-friendly interface. Using this platform, you can create good-looking pages even without being an expert coder. And because time is also important, the company boasts that thanks to its numerous data centers across North America you are guaranteed access to load boards at all times.
Freight brokers get a flat monthly rate, while people who are just using it to post loads or trucks can use it for free. A standard plan costs $35/month while a premium one is $10 more expensive but comes with some extra features, which are absolutely worth the money.
Freight Bidding Platforms #3: ComFreight

ComFreight.com
ComFreight is a freight load board that's both easy to use and comes loaded with useful features.
For just $19/month, freight brokers get unlimited load and truck postings, notifications on new shipper posts, customizable bids and match alerts, Federal Motor Carrier Safety Administration (FMCSA) reports (meaning you must be licensed and have a valid freight broker bond), load routes, weather reports, and a lot more. Whenever a shipper posts a load (whether it be full, partial or LTL), carriers and brokers will get email alerts and be able to submit their bids. Shippers will receive word of the bid via email and be able to contact them individually if they like their rates.
Another great feature of ComFreight is that it's possible to integrate your Transportation Management System (TMS) or Warehouse Management System (WMS) with their platform and web app.
Freight Bidding Platforms #4: Post.Bid.Ship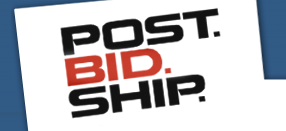 PostBidShip.com
Post.Bid.Ship works a little differently than other truck and freight load boards. Registration is technically only for shippers and carriers, but not for freight brokers. When freight brokers register, the system treats them as either a shipper or a carrier. They are considered the former if they are posting a load and the latter when bidding on a load that needs to be hauled.
Shippers can post as many loads as they like and get instant alerts whenever anyone bids on them. Their contact data is kept hidden until an award is given – and only then can a carrier see their information. As for carriers, they benefit from notifications via email or SMS, when a load matches their equipment's capacity. There is no limitations on how many loads they can bid on, and as with carriers, their contact information will be protected during the bidding process.
Currently there are more than 246,000 trucks and more than 2,100 trucking companies registered with Post.Bid.Ship. Prices for the software vary between $29 and $99 a month.
Freight Bidding Platforms #5: My Carrier Resources
MyCarrierResources.com
As the motto of My Carrier Resources goes: "Our name says it all". This platform offers a variety of services beneficial to freight professionals – strategic planning, LTL negotiations, even sales training programs for brokers.
Once shippers provide their information on the website, brokers and carriers can search using many different criteria – type of equipment, size, location, etc. What distinguishes this service from the crowd is the extensive number of details a carrier can enter. This allows you to make your search for the best carries as narrow as possible. Furthermore, My Carrier Resources is committed to helping shippers, carriers and freight brokers establish lasting relationships, and this is not the case with many other load boards.
A great distinguishing feature of this platform is the missing equipment page where shippers or carriers can post notices and try to locate something they lost.
Conclusion
As a freight broker you can be sure all of these five platforms will be great time and money savers. If you find the time, I would say experiment with them all to find out which one suits your needs best.
Are you using truck and freight load boards currently? Which one(s)? We would love to hear about your experience in the comments.