From blockchain technology through better warehouse management system (WMS) use, the freight claims management trends for 2020 reflect the infusion of technology that will make shippers more proactive. Those that wish to stay competitive and avoid the risks of customer upset due to poor, inefficient freight claims management need to consider these trends and make the changes necessary to streamline claims processes now.
Blockchain Will Dominate the Conversation on Freight Claims Management Trends
Blockchain will be among the most important and most influential freight claims management trends topics for the coming year. Blockchain is an immutable ledger that gives shippers and supply chain users access to a tamper-proof record for each item, the chain of custody of sorts that always becomes an issue in freight claims management. As reported by Kayla Matthews of FreightWaves:
"Blockchain is on track to bring a 5% increase in global GDP and a 15% rise in trade volume, and it's not hard to understand why. Global supply chains are already heavy with data – from ships and trucks, sensors, shipping pallets, business partners and inventory management systems.
Blockchain provides unprecedented visibility and security for this first- and third-party information. The industry knows it, which is why groups like the Blockchain in Transport Alliance (BiTA) are growing."
The Essential Guide to Freight Claims Management
Download the E-Book
API and EDI Connection Technologies Will Automate Freight Claims' Submission
The rise of API and EDI connection technologies will reduce delays in processing and completing freight claims' forms. As these technologies enable integration with the WMS, TMS, and other supply chain platforms, their value will increase. As a result, freight claims will become more automated and cost less. Artificial intelligence and machine learning will further empower claims management through routing of documentation, holding carriers and suppliers accountable, and even payment processing. Those features will continue to add value by helping shippers identify potential product defects and get ahead of the media when products require recall or other actions to ensure safety.
Food Supply Chains Will Look to Force Suppliers' Hands With More Traceability and Resolution When Recalls Are Issued
Since food recalls have been a key focus in recent years, the use of traceable systems and processes will also play into the freight claims management trends for 2020. More companies will look to hold suppliers accountable, especially in the food logistics vertical. This trend will blend with the blockchain trend, but it will have an added impact as food is more essential than any commodity on the planet.
Robotics Will Continue to Drive Freight Claims Into Retreat With More Accurate, Damage-Free Orders
Robotics are not necessarily ready to take full control of the supply chain, but their use will have an impact on freight claims management. Robotics can be used to automatically reship damaged or delayed freight. While these systems may operate in the background and technically follow a standard process for picking or other repetitive motions, they can also be used to achieve resolution of freight claims. Moreover, robotics within the machine—such as big data analytics and algorithms—will further push the boundaries of claims management and help reduce risks.
Furthermore, the application of robotics and machine learning in the warehouse can effectively push freight damage into retreat in these key takeaways, says Matthews:
"Machine vision inspections significantly reduce the rate of errors, including cutting down on the likelihood of shipping damaged, incomplete or incorrect items to customers. Robotic automated guided vehicles (AGVs) reduce repetitive motion and lifting injuries in warehouses by raising, transporting and preparing heavy shipments without human intervention. Compared with human warehouse workers, robotic order-pickers can locate bins and identify products faster and with greater accuracy."
More Outsourcing of Freight Claims Management Will Reduce Costs for Shippers
Outsourcing of freight claims management continue to lower costs for shippers. Instead of trying to handle everything in-house—a critical problem for small and mid-sized shippers—outsourcing immediately puts the resources of countless enterprises to work for an individual. As a result, shippers can continue focusing on filling orders and not worrying about handling claims. The benefits are even greater for preventing the risk of fraudulent filing of claims too.
Warehouses Will Take a More Active Role in Preventing Problems From Arising With New Systems
Shippers are not new to the issues of warehousing, but the role of third-party warehouses will become a bigger player in the freight claims management trends for 2020. Third-party warehouses are a necessity for the global supply chain. It's impractical to fulfill all global orders in e-commerce from a single facility. Costs would soar, and customers would simply turn to Amazon. In fact, consider this graphic, published by Risk & Insurance.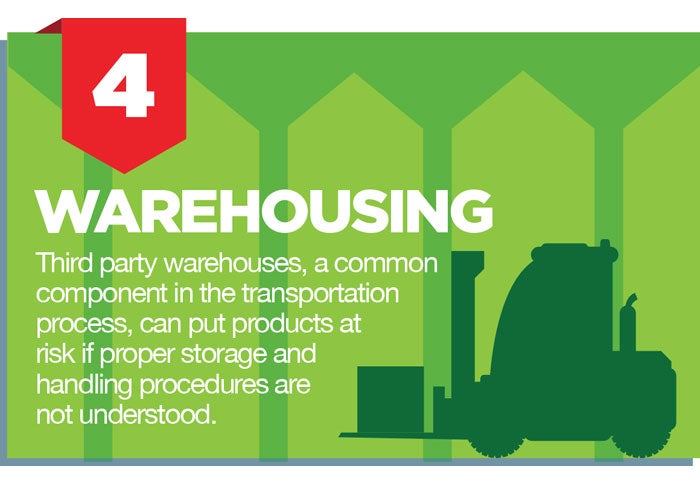 Warehouses will look for modern WMS platforms to better manage inventory, avoid the risks of spoilage, and seamlessly share data with transportation providers, including TMS platforms. 
Listen to "A Primer on Effective Freight Claims Management" on Spreaker.
More Technology Amounts to More Effective, Damage-Free Logistics
The state of logistics is changing, and technology is offering much more than just faster shipping. Technology's ultimate benefit is the ability to maintain a proactive approach to the supply chain and avoid risk of cargo loss, damage, or delays. These three factors are the primary reasons for filing a freight claim, so avoiding them through technology will naturally lead to fewer freight claims and better management. Of course, the same technologies used can also help address existing freight claims processes to speed documentation and resolution processes, helping everyone achieve a more effective, efficient supply chain.