It's no secret that the most wonderful time of the year is often the most stressful. Businesses of all sizes from across the country trust their holiday shipping challenges to trusted 3PL partners like GlobalTranz. Find out how partnering with a 3PL this peak season can benefit your business and make sure that this joyous season stays as stress-free as possible!
See How a 3PL Partner Can Help You During Peak Shipping Season
3PL partners can help you manage the peak season shipping rush in a variety of ways. In this one sheet, learn about 5 of the top ways a 3PL like GlobalTranz can support you this holiday season, including: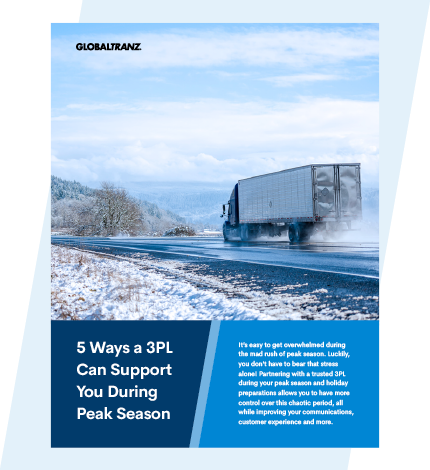 Low rates and cost savings through carrier relationships

Streamlined and improved communications with GlobalTranz TMS

Improved visibility of your supply chain from start to finish
Holiday shipment protection from packaging to insurance

Expertise from a team of dedicated industry professionals
Need help planning for the holiday shipping season?
Our team of shipping experts is ready to help you create a peak season shipping plan as unique as your business. Download our one sheet and holiday shipping checklist to see how partnering with GlobalTranz can benefit you this peak season, then connect with an expert to get started!
Make sure to also check out our Holiday Shipping Hub for more tips, tricks and updates as the season progresses.