Transportation Update as of August 26, 2020
At 1400 ET today, The National Hurricane Center reported Hurricane Laura is now an extremely dangerous Category 4 hurricane, with catastrophic and deadly storm surges expected, extreme winds, and flash flooding along the Northwest Gulf Coast tonight. Hurricane Laura's winds are currently sustained at 140 MPH. The National Hurricane Center issued additional watches and warnings during their most recent advisory:
Storm surge warning is in effect for:

Freeport, TX to the mouth of the Mississippi River

Hurricane warning is in effect for:

San Luis Pass, TX to Intracoastal City, LA

Tropical storm warning is in effect for:

Sargent, TX to San Luis Pass, TX
East of Intracoastal City, LA to the mouth of the Mississippi River

A storm surge watch is in effect for:

Mouth of the Mississippi River to Ocean Springs, MS
Lake Pontchartrain, LA
Lake Maurepas, LA
Lake Borgne, LA

A Hurricane Watch is in effect for:

East of Intracoastal City, LA to the west of Morgan City, LA
CNN is reporting more than 1.5 million people across Texas and Louisiana are under either voluntary or mandatory evacuation orders.
GlobalTranz has received the following updates from LTL carriers (as of August 26, 2020):
SEFL:
Orange, TX, service center is now closed.
SMTL:
Service is suspended in the Beaumont, TX, and Orange, TX, areas beginning Wednesday, August 26.
Service will most likely be suspended East of Houston on Thursday, August 27, and Friday, August 28.
---
Tuesday, August 25, 2020
The National Hurricane Center issued a hurricane watch for a Category 3 hurricane for the U.S. Gulf Coast. According to the Saffir-Simpson Hurricane Wind Scale, a major category 3 storm can have sustained winds as high as 129 MPH, which can cause devastating damage to the region. Hurricane Laura is expected to make landfall in Louisiana sometime between late Wednesday night into early Thursday morning.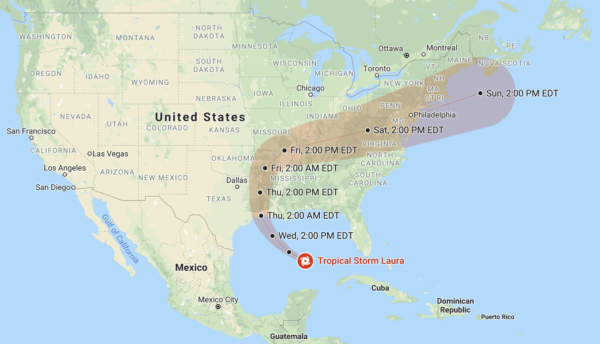 Source: National Oceanic and Atmospheric Administration
Here is the latest information from the GlobalTranz team, carrier networks, and industry sources:
LTL :
Hurricane Laura and Tropical Storm Marco are creating significant capacity issues in Louisiana, Arkansas, Mississippi, and Alabama.
GlobalTranz has received the following updates from LTL carriers (as of August 24, 2020):

ODFL:

Baton Rouge, LA, and New Orleans, LA terminals are closed.

XPO:

Sailings between Puerto Rico and Jacksonville will experience a 1-2-day delay.
Lafayette, LA, and Houston, TX, are open and offering limited pickup and delivery service as conditions allow.

SEFL:

Limited operations in:

Mobile, AL
South Houston, TX
Orange, TX  Service Center
Lafayette, LA
New Orleans, LA
No service in Biloxi, MS, Gulfport MS, Pass Christian, MS, Bay St. Louis, MS, and other coastal areas to the west.
Limited operations in Louisiana.
Puerto Rico is fully operational.
Truckload:
Hurricane Laura is driving an increase in spot rates throughout the Southeast.
Capacity may be affected in Arkansas, Mississippi, and Alabama due to flooding, storms, and potential tornados.
Shippers will likely experience capacity constraints due to carriers prioritizing available trucks for transporting FEMA relief and emergency supplies.
Port Closures:
Port Houston announced the following closures:

Bayport and Barbours Cut container terminals will close Tuesday, August 25th, at 1600 local time.
All Port Houston Terminals will be closed Wednesday, August 26th, with the potential to remain closed on Thursday, August 27th.
The United States Coast Guard has announced the temporary closure of:

The lower Mississippi River Port
The Venice Port Complex
The Port of South Louisiana
Rail Closures:
The New Orleans flood gates remain closed, affecting traffic interchanging with eastern carriers. Some trains are being rerouted over Memphis during the outage.
Union Pacific:

The Avondale, LA intermodal terminal remains closed until further notice.
The Settegast and Englewood intermodal terminals in Houston, TX will be closed effective 1200 CT on August 26th. These closures apply to inbound and outbound intermodal gate activity.

BNSF Railway:

BNSF is holding all New Orleans-bound trains from moving into the area and re-routing traffic as needed.
The GlobalTranz team is diligently tracking the impact of both Tropical Storm Marco and Hurricane Laura to support shippers and carriers who may be affected and to assist with any weather-related supply chain disruptions.
These weather events are rapidly evolving. For updates and more information, please continue to visit the GlobalTranz blog and follow us on social media.