Intermodal Trucking or Rail Freight Shipping: Which is right for you?
While intermodal rail shipping is an optimal solution for many shippers, determining if it is the right mode for your specific needs can be confusing. From considering costs to factoring in the time in transit and potential environmental concerns, shippers may have a difficult time choosing the best intermodal transportation solution for their business.
That's why we've compiled a list of pros and cons to help you decide whether rail or truck shipping is the right option for you. Plus, partnering with a reliable third-party-logistics (3PL) provider like GlobalTranz gives you access to a variety of tools and resources to make finding your ideal intermodal freight shipping solution a breeze.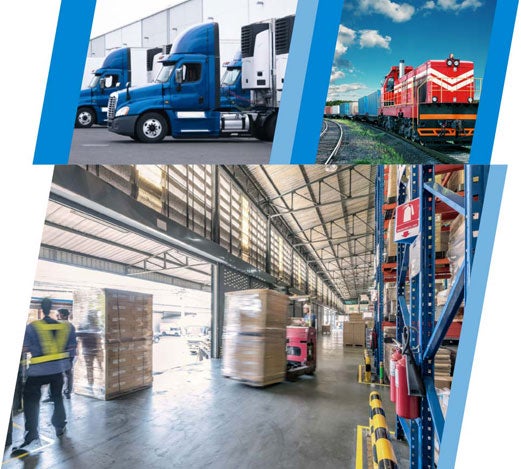 Rail Freight vs. Intermodal Trucking
When choosing how best to ship your freight, consider these important factors.
By rail:
When you're shipping multiple loads, intermodal rail shipping can be less costly for businesses shipping large amounts of cargo over long distances.
By truck:
If you're looking to ship a single load less than 500 miles, the most cost-effective option may very well be less-than-truckload (LTL) and full truckload (FTL) freight shipping.
By rail:
With the ability to double stack containers and add additional cars, intermodal rail freight shipping allows for hundreds of loads to be shipped across long distances all at once.
By truck:
Intermodal shipping via truck provides the opportunity to transport large, bulky, oversized or irregularly shaped loads that may not fit on trains. Plus, shippers can work with a 3PL like GlobalTranz to find the right carriers and equipment types for all their freight shipping needs.
By rail:
While rail shipping allows for more and larger loads, the total weight of each load is actually lower than what can be transported via truck. Because of the added weight of a chassis, rail freight must weigh 2,500 lbs. less than a typical truck freight load.
By truck:
Because a truck's framework weighs less than the chassis on rail cars, the cargo space allows for heavier loads. Typically, the weight for shipping on the road is the same as on the rail plus around 2,500 lbs.
By rail:
Railyards are constantly monitored, and shipments aren't accessible once they have been loaded onto the rail cars . Plus, trains run through the night and have very few stops, meaning your shipments are less likely to be accessed and stolen.
By truck:
Drivers need to take breaks, however, due both to safety regulations and human nature. This makes your truckload shipments more prone to theft than rail shipments. When shipping by truck, make sure to work with a trusted 3PL like GlobalTranz to find carriers with proven track records and insurance options to protect all your shipments.
By rail:
Cargo trailers are typically loaded onto rail cars without your goods being transferred, making damage due to handling less likely. There are also less weather-related risks with shipping via intermodal rail since the rail is more stable than pavement, but the vibrations may increase the risk of damage to more fragile shipments. Luckily, 3PLs like GlobalTranz have experience protecting (and insuring) your intermodal freight shipments to minimize potential damage.
By truck:
Shipments traveling by truck run the risk of being damaged during loading and unloading at any given distribution centers or being damaged on the road due to overpacked trucks or hazardous road conditions. Before choosing a carrier to deliver your more vulnerable or valuable commodities, verify carriers' limit of liability and discuss freight shipping insurance with a trusted 3PL.
By rail:
Trains run on a strict schedule and are delayed infrequently due to lack of congestion on the railways and indifference to poor weather conditions.
By truck:
Smart GPS technology helps trucks stay on schedule by updating their best route when faced with poor weather conditions or other obstacles.
By rail:
Although rail shipments run 'round the clock once they're loaded, trains may make additional stops along their route to load and unload other cargo trailers. Because of these additional stops, rail shipping often takes an extra one to two days of transit time.
By truck:
Because there are more roads than there are railroad tracks, and because roads lead directly to drop-off points and delivery locations, intermodal truck shipping is usually a faster option than shipping via rail. Rely on a trusted 3PL account team, like GlobalTranz, to find LTL and FTL shipping options to fit your schedule.
By rail:
For environmentally conscious shippers, intermodal rail shipping may be a better option than other shipping modes. Shipping by rail produces less carbon dioxide than shipping by truck, resulting in less greenhouse gas emissions per shipment.
By truck:
Though shipping by truck may be the faster and more economical option for some shipments, this mode is less energy efficient and more harmful to the environment since more trucks are needed to transport the same amount of goods.
By rail:
Intermodal freight shipping by rail means that a shipper will need to coordinate a truck to transport goods from the railyard to the delivery point, meaning there will be more than one bill of lading (BOL). Luckily, GlobalTranz can help you coordinate your shipping process from start to finish, and help you find the best options for your unique needs.
By truck:
Most truckload shipments include a single truck from door-to-door pickup to door-to-door delivery. This means there is only one BOL associated with your shipment, allowing for easier processing.
Intermodal Freight Shipping Support You Can Count On
When booking intermodal transportation for your freight shipments, it's important to consider a variety of factors. And weighing the value of costs vs. environmental impact vs. An array of additional factors can get tricky. Luckily, you can simplify the process with the help of a trusted 3PL that will provide industry knowledge and connections to help you find the best possible solutions for all your freight shipments.
Whether you're thinking of shipping by rail or  by truck, GlobalTranz has the resources, support and expertise you need to maximize your budget and protect your bottom line. From packing tips to freight shipping insurance,