This is the first of a two-part series where I will curate and cull information from my 4 decades of experience in logistics cost reduction at various positions in the supply chain. In this first part, I will focus on 6 places that you can apply to your organization to reduce costs and increase profit. According to the CSCMP's "State of Logistics" Report from 2015, logistics costs now make up over 8% of the GDP. Any percentage less for your business with logistics costs as a percent of your revenue, goes straight to the bottom line. 
An essential ingredient to logistics cost reduction: "Treat people well and profits will follow." Listen to your people. They have great ideas.
Logistics Cost Reduction by Focusing on Safety
First and foremost, shippers and logistics provider must understand safety/OSHA considerations. Ensure that your warehouse operation is safe. Be proactive with safety. Avoid injuries that could cost the company a lot of money. Stay away from OSHA fines. If you have too many safety issues, OSHA can shut your operation down. Have someone, like a Safety Manager, be accountable and responsible for safety and ongoing safety training.
Focus on Labor Costs
Analyze labor reduction for any warehousing operation. Every project should focus on labor costs. There are Labor Management Software systems that can help manage work in the warehouse. Incentive programs for warehousing employees do work. So do projects that automate repetitive, structured tasks, like light or voice-directed picking, carousel storage, robotics, etc.  Try warehouse mobility in your four walls. You will reduce overhead costs. It will increase individual productivity; you need fewer staff members and less equipment.
Focus on Preventative Maintenance
To save money on any equipment, implement Preventative Maintenance as a way to achieve logistics cost reduction. Reactive fixes/maintenance do not work. In the middle of a job, you have an equipment breakdown. This can be costly in man hours, customer service (goods needed cannot be processed), accidents (safety): unloading a container and the forklift dies: the pallet slips off the forklift tines which can injure employees.
Focus on the Use of Systems & Tactical Technology
Productivity increases from wearable voice command tools can increase factory warehouse efficiencies up to 30 percent, according to an article in Supply Chain Management Review. 
An excellent Warehouse Management System (WMS) can help reduce costs by automating cycle counting, and maintaining location control. The layout of your warehouse can save you money. Try a velocity layout.  Product slotting, or having top demand SKUs near shipping, will reduce the cost of picking and put away. When demand changes, you have to re-slot.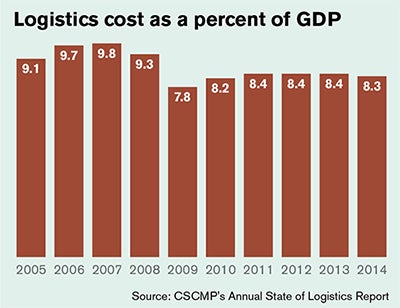 Don't forget to switch to high-efficiency lighting in the warehouse to save money.
What does the future hold for Warehousing: look to Robotics. This emerging trend of technology use will continue to weed out inefficiencies and further logistics cost reduction but also allow for a more strategic mindset in logistics. 
Anything that reduces returns, Return Merchandise Authorizations (RMAs), Return to Vendor (RTV) or Reverse Logistics systems can aid in logistics cost reduction. A cross-functional Material Review Board (MRB) will reduce the need for additional space by reviewing obsolete, non-moving and slow moving inventory monthly, and sending disposition recommendations to top management. Take the necessary time to include MRB monthly.
A Transportation Management System (TMS) optimizes freight to utilize the most effective lanes and routes.
For companies to reduce logistics costs consider automation. Use a Warehouse Execution System (WES) combining WMS and a Warehouse Control System (WCS). Regulating, automating, and optimizing manual processes can reduce staff requirements, centralize production operations to lower-cost areas and create a more proactive approach to ensuring customer satisfaction. With an automated, cost-effective transportation and logistics system, a company can implement major strategic changes to provide visibility, reduce costs and increase customer service levels.  
Focus on Suppliers for Logistics Cost Reduction
The best suppyl chain or logistics cost reduction tip is this: Collaborate and partner with Suppliers to help reduce costs. Suppliers can sometimes absorb direct logistics costs. Create a consortium of buyers (a client and several of their suppliers) to buy needed logistics supplies (i.e. transportation fuel) at a reduced cost that comes with buying in greater quantities.
Be bold and try the Supplier Day Conference: invite suppliers to your facility with a structured agenda. One topic is to Value Analyze your products and for all involved to submit logistics cost reduction ideas. The Supplier is the specialist in their area of expertise. They can help by working with you and being creative in a win-win cost reduction program. Retain the function of a part, but reduce the costs of components, never jeopardizing quality.
Focus on the Customer
Keeping the per order cost of logistics support low requires keeping customers happy (so companies retain them as customers). By going beyond the customers' expectation, companies can keep business up and spreads out the burden of logistics cost reduction over a greater number of orders/customers. Because of this direct correlation between customer satisfaction and overall cost reduction, customer service should be factored into any measurement of changes in logistics costs accordingly.
5 Bonus Quick Tips for Logistics Cost Reduction
"Identify and eliminate open spaces." this simple statement, when executed, drives the following business outcomes, as stated by David Martinelli, an independent Principal with Blossom Growth from Camcode's blog post:
Increases storage density in bins & racks by improving vertical space utilization or bin re-profile as a means to achieve it.
Decreases freight costs through better truck utilization in both full (FTL) and less than truckload (LTL) shipments.
Reduces damage to case picked pallets by eliminating movement in transit
Better utilizes available floor-space to increase storage density
Encourages organized operations, which is directly linked to labor, efficiency, asset utilization, and inventory accuracy.
How do you go about logistics cost reduction in your business? Let us know in the comments below.
Tomorrow we will continue the series where we will talk about best practices to use with inventory management and how the application of LEAN can further the quest for logistics cost reduction.