The transportation management trends for 2020 reflect a growing consensus that new technology and visibility will define the successes of the future supply chain. Adoption rates for new services and cloud-based technologies are climbing, and the global transportation management system (TMS) is expanding. In fact, according to FreightWaves, the global TMS market will achieve a compound annual growth rate of 19.13% through 2024. Also, as further demonstrated by Gartner, "companies will spend $1.94 billion on TMS applications by 2022, with Software-as-a-Service products accounting for 65% of that. Clearly, companies expect to leverage TMS even more than they do today. From reduced transportation spend to better management of routing and the automation of freight auditing and payment processes, the modern TMS must do more than record time and place of shipments." 
Spot Rates Will Decline Throughout 2020 
The trucking spot rate market is also changing in the wake of trends within the industry. The spot market reacts to available supply and demand. As demand changes to reflect limited transportation capabilities due to the coronavirus and it's a potential association with an unknown mode of transmission, spot rates will change. With all the talk about modes and transmission, it can be confusing to keep medical terminology and logistics terminology separate. Here's what you need to know. Researchers do not yet know exactly how the coronavirus is spread, and until they have a finite point of transmission, uncertainty will remain as to whether trade routes affecting products deriving from China or the Asia-Pacific region itself will be subject to new regulations or standards. In other words, the spot rate market is on the verge of bottoming out due to the vast uncertainty regarding the coronavirus, and the election cycle only adds insult to injury. Spot rates across the board are shrinking, which is also exhibited in the following FreightWaves' graphic: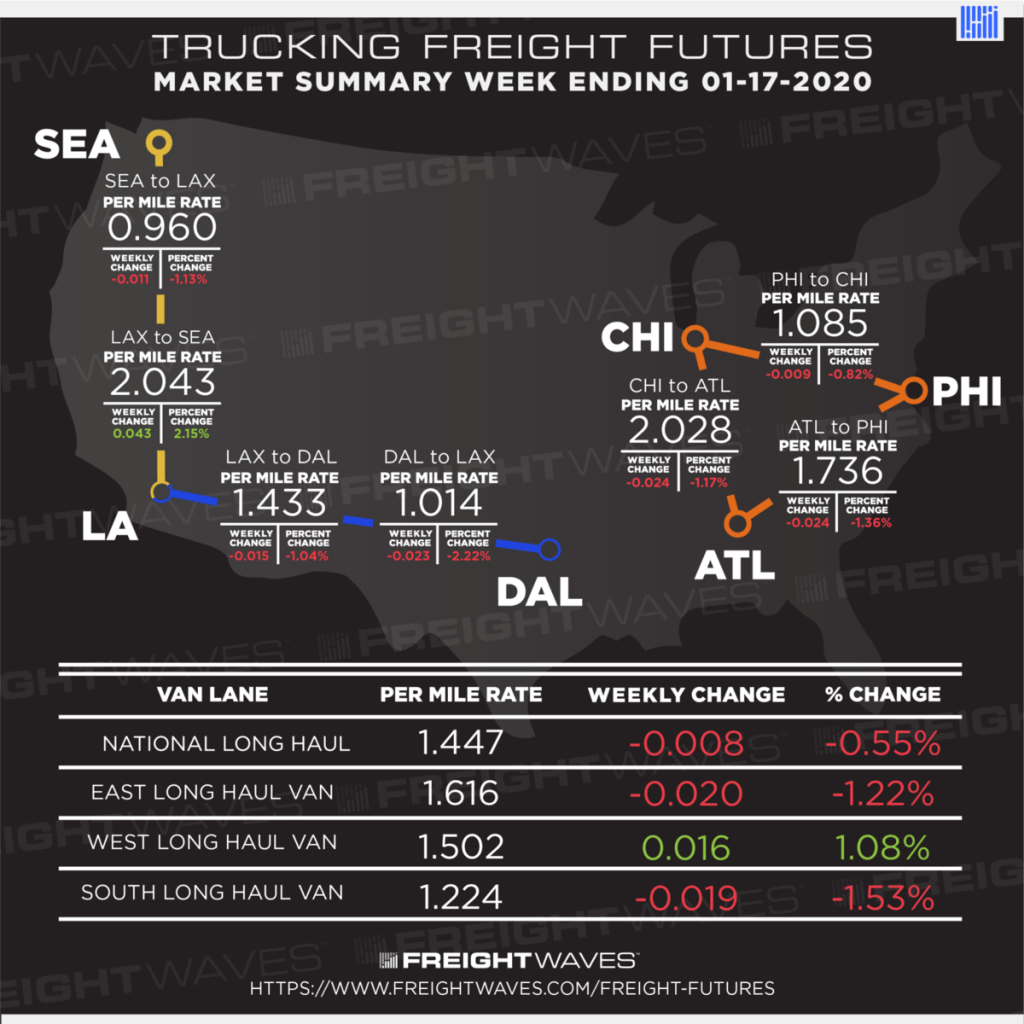 Shippers Will Start to Recover From the U.S.-China Trade War
The massive fears and problems deriving from the U.S.-China trade war are finally starting to ease. A new trade agreement has been reached, and hope is on the horizon. However, to ensure shippers do not fall victim to yet another problem resulting from politics, more companies will turn to TMS software to make hard decisions based on facts, not political uncertainty and promises. 
Transportation Management Trends for 2020 Include Increased Adoption of Cloud-Based Systems
The biggest transportation management trends for 2020 will revolve around the use of cloud-based systems. Cloud-based platforms leverage a software-as-a-service (SaaS) model to effectively give companies unlimited scalability and a hassle-free way to use innovative IT resources. The results are clear, and companies that have deployed cloud-based platforms realize higher profitability and returns that far exceed traditional, on-premise TMS capabilities. 
Load Tendering Automation Will Improve Efficiency and Enable Balance
Automation will form another key trend for 2020. Automation is everywhere and in all supply chain processes. It allows for driverless forklifts and trucks. It handles exception management. It opens the doors to faster processing of data to route shipments more effectively and recognizes when spot rates are more cost-effective than contracted freight rates. Load tendering automation will stand apart in 2020 and help shippers maintain balance. 
2020 Strategic Freight Management Trends
Download White Paper
AB5 Will Have a Minimal Influence
Considering that most carriers are comprised of fleets with five or fewer truckers, the recent passage and enforcement of California's Assembly Bill 5 (AB5) would seem to present new risks to the trucking industry for California truckers. The law reclassifies most independent drivers as employees, adding yet another series of regulations that truckers must follow. However, some in the industry are optimistic that the impact of AB5 is minimal currently since the regulation is being challenged in courts. But if AB5 were upheld it would raise operating costs for carriers, but not to the point it will drastically impact shippers.
What Shippers Need to Do Now
Outsource. Outsourcing logistics is now the go-to best practice for supply chain leaders in need of added help in managing all aspects of a business, particularly packaging design, warehousing, and transportation, as well as a series of value-added, 4PL services, such as accounting and auditing processes. Outsourcing will be among the biggest, if not the biggest itself, transportation management trends for 2020. As reported by Georgia Wilson via Supply Chain Digital: 
"In a study completed by Gartner 45% of its respondents are now looking for 4PL services. Outsourcing has, over the years, become mainstream 80% of Gartner's participants plan to significantly increase their logistics outsourcing budget to more than just warehousing and fulfilment in 2020, not only to optimize cost but save money too."
The Big Picture: The Top Transportation Management Trends Will Continue to Change
Leading transportation management trends are simple. They range from more technology in freight management through a shift toward outsourcing-preferred management methodologies. As the freight market continues to change throughout the coming year, shippers need to implement the technologies and processes that promote efficiency, productivity, and savings. Fortunately, 3PLs, including Cerasis, have spent years developing new capabilities within SaaS platforms to offer a bigger, better, and more effective way to approach logistics management. Ironically, that fact alone is part of the reason why outsourcing is now the go-to best practice for freight management.