Hurricane Zeta made landfall in Louisiana yesterday as a Category 2 storm before weakening to a tropical storm, with sustained winds of 60 mph as of 0500 ET Thursday, 10.29.20.
The National Hurricane Center reports that Zeta is moving at approximately 39 mph and picking up momentum as it tracks to the northeast. Zeta is expected to "move across portions of the southeastern US this morning (Thursday), across the Mid-Atlantic states this afternoon, and emerge over the western Atlantic by tonight." Zeta is expected to bring strong gusty winds, isolated tornadoes, and heavy rain with the potential to produce flash flooding overnight.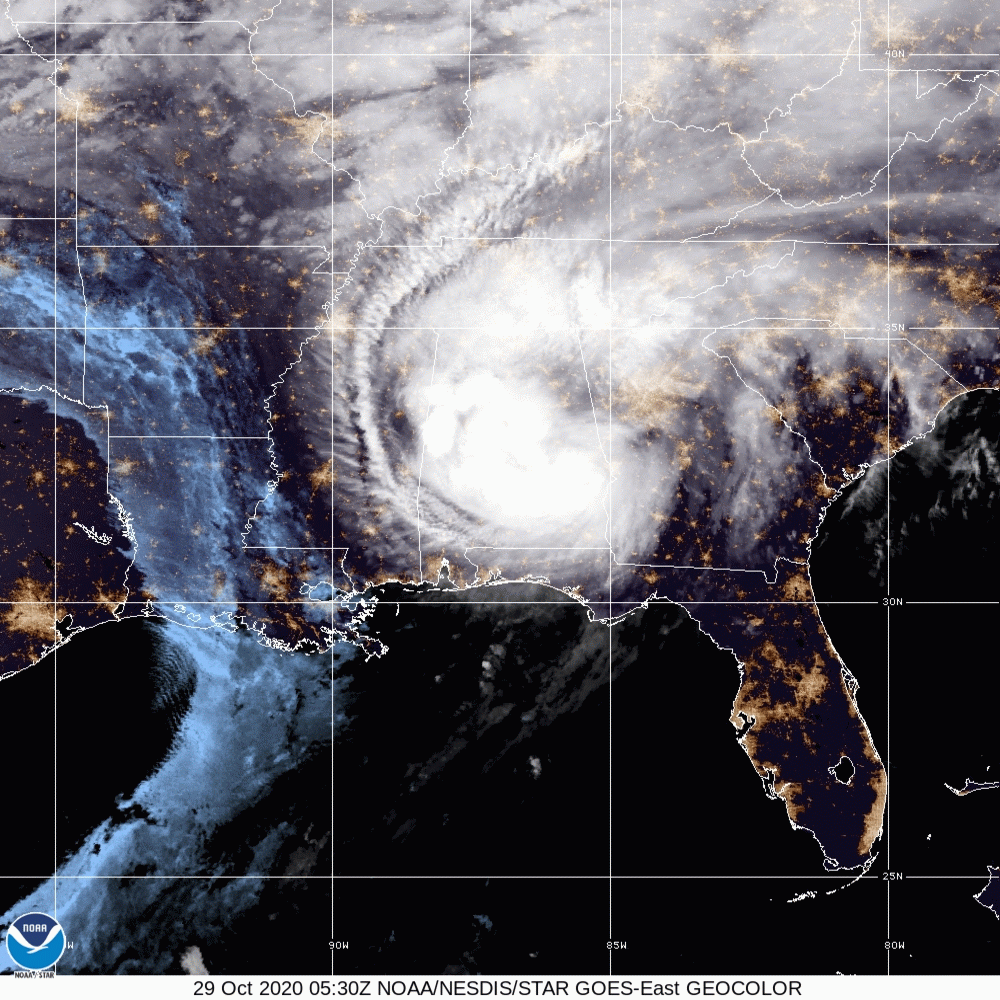 According to PowerOutage.US, Zeta has caused substantial power outages affecting more than 2 million utility customers across Georgia, Louisiana, Alabama, and Mississippi. Dozens of road closures have been reported across the region. For live updates, please click here. As of this morning, the Federal Motor Carrier Safety Administration has not yet issued any declarations suspending Hours of Service regulations.
LTL Embargoes and Terminal Status Updates:
Southeastern Freight Lines: All points for New Orleans, LA have been embargoed as of 10.29.20
YRC:

Atlanta South (Conly, GA): Limited operations
New Orleans, LA: Limited operations
In addition, the National Hurricane Center has issued the following outlook:
WIND: Damaging winds, especially in gusts, are spreading across northern Georgia, western South Carolina, and western North Carolina. These winds will shift into other portions of North Carolina and southeastern Virginia later today. Wind gusts could be especially severe across the southern Appalachian Mountains.
RAINFALL: Areas of heavy rainfall, both in advance of Zeta and along the track of Zeta, will impact areas from the central Appalachians, Mid-Atlantic and lower to middle Ohio Valley through Thursday. Rainfall totals of 1 to 3 inches are expected across these areas, resulting in possible flash, urban, small stream, and isolated minor river flooding.
TORNADOES: A tornado or two is possible later today over the Carolinas and southern Virginia.
The GlobalTranz team will continue to track Zeta's impact on shippers and carriers in the affected regions and assist with any weather-related supply chain disruptions. Our thoughts are with all those in the storm path.
This weather event is rapidly evolving. For updates and more information, please continue to visit the GlobalTranz blog and follow us on LinkedIn and Twitter.