UPDATE: 02.15.21
According to weather.com, "more than 2 million Texas homes and businesses were without power Monday morning as record-breaking cold and Winter Storm Uri extended an icy grip across the central United States." Winter weather continues to impact multiple U.S. states and parts of northern Mexico. Here are the latest updates from across the GlobalTranz network:
Authorities are reporting road closures due to dangerous driving conditions and multiple crashes on roadways throughout the region
I-10 is closed from Baton Rouge, LA to Lafayette, LA due to ice and accidents.
Parts of I-44 are closed near Oklahoma City, OK.
Parts of I-35 in Oklahoma are closed.
All westbound lanes of I-40 near Albuquerque, NM are closed.
Parts of I-20 in Texas are closed.
Eastbound lanes of I-84 in Oregon's Columbia River Gorge are closed.
The Louisiana Department of Transportation reported that all state-maintained roadways, except for I-20 and I-49 (sections that remain open), in the seven-parish Northwest region were deemed impassable because of winter weather conditions. Numerous bridges were closed because of icing.
A crash on I-20 at U.S. 80 in Rankin County, Mississippi blocked all lanes of the interstate and a semi that slid off the road shut down westbound I-22 in Lee County, Mississippi.
A pileup of more than 20 vehicles blocked both directions of U.S. Highway 231 in Morgan County in northern Alabama.
Numerous carriers across Texas, Alabama, Louisiana, Arkansas, Mississippi, Iowa, Ohio, Michigan, Wisconsin, Minnesota, Indiana, Illinois, Tennessee and parts of northern Mexico, including the states of Chihuahua, Coahuila, Nuevo Leon and Tamaulipas are reporting delays, limited operations and/or closures due to blackouts, snow, and ice.
This continues to be a rapidly evolving weather event. Please continue to visit the GlobalTranz blog and follow us on LinkedIn and Twitter for updates and more information.
Several rounds of hazardous winter weather will accompany the latest arctic blast and impact much of the US. A powerful winter storm will begin hitting the Pacific Northwest on Friday, February 12th, and is expected to move across the southern U.S. by Sunday, February 14th, causing treacherous road conditions for truck drivers. Carriers and shippers should prepare for delivery delays across the nation throughout the weekend and into early next week.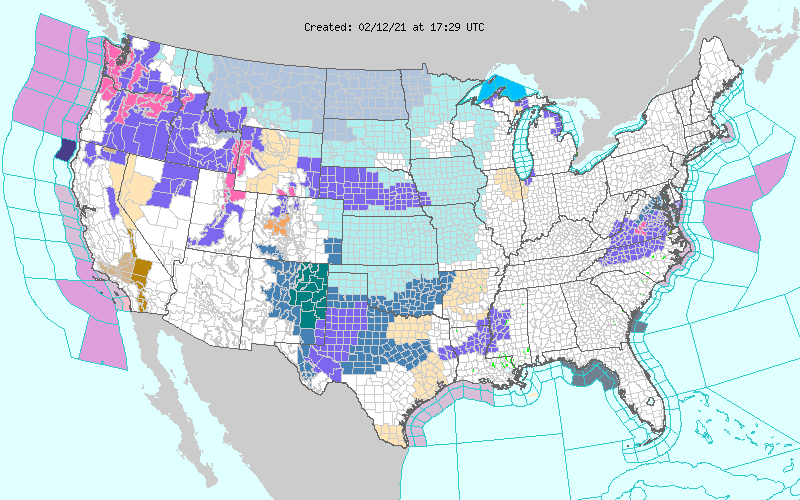 According to the National Weather Service, starting this weekend and into the beginning of next week, much of the U.S. will experience hazardous winter weather conditions:
Frigid arctic air will continue to impact the Central U.S. and will expand into the South.
The Midwest and the Northwest will face heavy snow accumulations due to a series of winter storms.
Showers and thunderstorms in the Southeast are predicted to cause icy conditions across the lower Mississippi Valley and up to the Mid-Atlantic.
Much of the Northern Tier of the lower 48 will experience arctic air that may continue South and into the Southern Plains.
The Northern Rockies and High Plains are expected to experience sub-zero high temperatures over the weekend. Some areas may experience temperatures as low as -30 degrees Fahrenheit.
Wind chill advisories extend as far south as Oklahoma, with wind chills as low as -10 degrees Fahrenheit possible through Saturday.
Much of the central U.S., from the Dakotas to Texas, will experience record-breaking low temperatures throughout the weekend.
Snow will blanket portions of the Northwest, the Intermountain West, and the Midwest. The heaviest snowfall in this region will occur in the Cascades, Tetons, and Colorado Rockies.
Starting Saturday, a Pacific storm system will cause heavy snowfall from Portland to Seattle. This storm system will cause hazardous travel conditions in the region.
A quasi-stationary front will produce showers along the Gulf Coast and in the Southeast.
A wintery mix is forecasted to fall over parts of the Mid-Atlantic and cause icy conditions for drivers.
Light ice accumulation in parts of the Lower Mississippi Valley and the Piedmont of northern North Carolina and southern Virginia could cause hazardous driving conditions.
The combination of sub-freezing air and a wintery mix of snow, sleet, and freezing rain in the northern Mid-Atlantic region on Saturday will impact drivers. Ice accumulations are predicted to be as much as a quarter inch through Saturday evening.
The GlobalTranz team will continue to track these storm systems' impact on shippers and carriers in the affected regions and assist with any weather-related supply chain disruptions.
These weather events are rapidly evolving.
Please continue to visit the GlobalTranz blog and follow us on LinkedIn and Twitter for updates and more information.