A severe ice storm is causing significant disruption from Texas to Virginia, with Arkansas, Tennessee, Kentucky, and parts of Missouri and Illinois expected to face this storm system's most substantial impact. CNN reports that an estimated 6.5 million people are at risk of possible power outages, with over 80,000 customers across Kentucky and West Virginia already without power as of Thursday morning.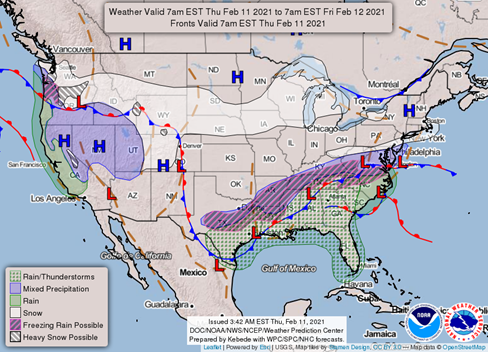 The National Weather Service in Memphis estimates areas eastern Arkansas and western Tennessee, along the I-40 corridor, may see ice accumulations up to 0.75 inches. The impacts of this serve ice storm can last for days and will disrupt transportation in the region. KY Gov. Andy Beshear is requesting that residents stay off the roadways unless necessary due to hazardous driving conditions.
According to the National Weather Service, the following areas are under an Ice Storm Warning:
Little Rock, AR
Pine Bluff, AR
Memphis, TN
Jackson, TN
Clarksville, TN
Clarksdale, MS
Poplar Buff, MO
Sikeston, MO
Paducah, KY
Hopkinsville, KY
Bowling Green, KY
Lexington, KY
London, KY
Additionally, the following areas may face light ice storms and freezing drizzle that may cause adverse driving conditions:
Dallas- Fort Worth, TX
Eastern OK
Northwestern AK
Southern MO
Southern IL
Evansville, IN
Louisville, KY
According to FreightWaves, drivers traveling on the following interstates will face the most challenges:
I-35
I-40
I-44
I-55
I-64
I-65
I-70
The GlobalTranz team will continue to track the impact of this storm system on shippers and carriers in the affected regions and assist with any weather-related supply chain disruptions.
This weather event is rapidly evolving. Please continue to visit the GlobalTranz blog and follow us on LinkedIn and Twitter for updates and more information.