The National Weather Service Storm Prediction Center is forecasting a major severe weather outbreak for today and tonight across multiple Southern states. Per the NWS, "A tornado outbreak — including the threat of a few long-tracked, violent tornadoes — is expected today into early this evening over the Southeast, especially parts of Mississippi, Alabama and Tennessee. Tornadoes, large to very large hail, and damaging winds to hurricane force also are possible over a broad area from the central Gulf Coast to the Ohio Valley and southern Appalachians.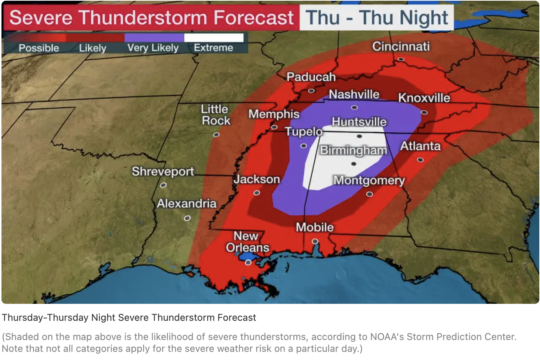 "According to FreightWaves, "in addition to delaying ground transportation, the storms could delay air cargo, as well as the loading and unloading of cargo at ports."
For more information, please watch this video briefing from the NOAA Storm Prediction Center. Please continue to visit the GlobalTranz blog and follow us on LinkedIn and Twitter for updates and more information.