Transportation Management requires more than lining up carriers and tracking freight — it's the process of building a lasting relationship, analyzing shipping data and continuously improving your company's supply chain with custom solutions. That's why you need a shipping partner who is equipped to guide you through the entire process.
In our guide, 3 Reasons To Partner With GlobalTranz for Transportation Management, we discuss the many ways that GlobalTranz provides innovative solutions and support to help you ship smarter. With industry-leading expertise from our team of seasoned logistics professionals and an impressive array of data-driven technology and resources, we have an ideal managed transportation solution for all your needs.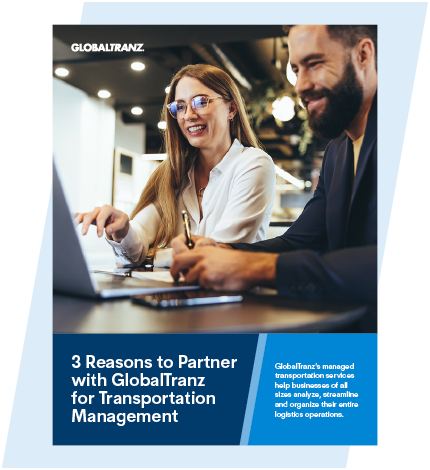 Your Logistics Management Partner
Learn how our logistics management services help businesses:
Gain visibility into all aspects of their supply chain and shipping processes to help them make an effective game plan for the future of their company.
Increase efficiency by automating processes, discovering new opportunities and streamlining the way they manage logistics.

Control risk and rest easy knowing that GlobalTranz completes a comprehensive carrier qualification process, ensuring your freight is in good hands from point A to point B.
Maximize your business with transportation management solutions from GlobalTranz!
Find out how our customized transportation management services can boost your business.